MENU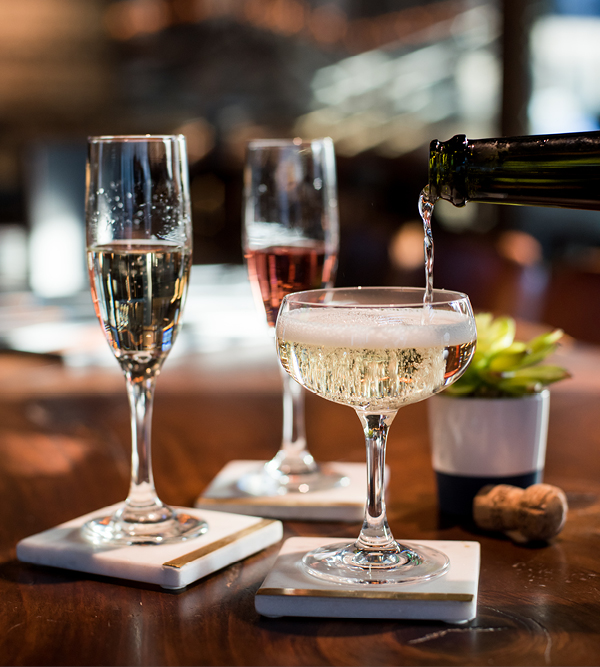 Wild Mushroom Soup
truffle oil, chives

Sweet Potato Fries
Sundried tomato aioli

Truffle Parmesan Fries
fresh cut russet fries, sea salt, thyme, Parmesan
Chicken Wings
tossed in Buffalo butter sauce
Ravioli & Garlic Shrimp
ricotta ravioli, sundried tomato sofrito, beurre blanc, crispy capers
Angus Beef Sliders
American cheese, horseradish aioli, pickle, fresh baked sesame seed potato bun
Bangkok Nachos
crisp wonton, roasted chicken, lime crema, sweet chili, melted cheese, peanuts
Calamari
crisp zucchini, red pepper, fennel, lemon, rosemary salt, sundried aioli, rosemary ginger aioli
Ahi Tuna Tostadas
mango ginger glaze, guacamole
Chicken Lettuce Wraps
hoisin chili, paprika yogurt, crispy wonton, cilantro, onion, peanuts, sesame


Harvest Bowl
basmati rice, avocado, cauliflower, sweet potato, chickpeas, raita, greens, seed & nut blend, agave citrus dressing
ADD: Chicken Breast 6.00
ADD: Shrimp 8.00
ADD: Tuna 8.00
(895 KCals)
Masala Butter Chicken
cucumber raita, basmati rice, cashew, onion, naan
Tandoori Chicken
ancient grains, power greens, crisp cauliflower, raisins, raita, cashews, naan, ginger dressing

The Chicken Cobb
grilled chicken breast, romaine, kale, quinoa, blue cheese, soft yolk egg, applewood bacon, avocado, dijon dressing
(602 KCals)

Salmon & Kale
quinoa, candied cashews, cranberries, apple, sweet potato, grano padano cheese, agave citrus
Lamb Rogan Josh Curry
lamb braised in garam masala, cashews, tomato, carrot almond salad, turmeric, basmati rice, yogurt, naan
Chicken Carbonara
rigatoni, sweet garden peas, garlic confit, smoky bacon, onion, thyme cream, perfectly poached egg

Pan Roasted Chicken
herb roasted chicken, wild mushrooms, fingerling potatoes, asparagus, sage, cipollini onion, jus
Ravioli & Garlic Shrimp
ricotta ravioli, sundried tomato sofrito, beurre blanc, crispy capers
Seafood Linguini
Atlantic lobster, diver scallops, garlic shrimp, sundried tomato, white wine tomato cream
FRESH FISH

Seared Salmon Romesco
roasted tomato and almond puree, succotash, fingerling potatoes, triple crunch beurre blanc

Oven Roasted Wild Cod
cornmeal crusted Atlantic Cod in a corn brodo, quinoa, chorizo, sundried tomato sofrito
(797 KCals)
Fresh Angus beef seared on a flat top for maximum juiciness.
Served with your choice of fresh cut fries, or Caesar salad. Substitute a gluten-free bun for $2.50 or a lettuce bun for no additional cost.

Falafel & Beet Burger
Mediterranean chickpea patty, onion, cucumber, tomato, feta, cashew cream, fresh baked potato bun
(754 KCals)
Cheeseburger
two year aged Canadian cheddar, lettuce, tomato, red onion, pickle, fresh baked potato bun ADD: APPLEWOOD BACON +2.00
Roast Turkey Club
roasted turkey, two year aged Canadian cheddar, applewood bacon, tomato, lettuce, balsamic glaze, mayo
Brixton Burger
caramelized onions, cremini mushrooms, Swiss cheese, onion rings, horseradish aioli, fresh baked potato bun
Lobster Grilled Cheese
mascarpone, avocado, sourdough bread
We serve Canadian AAA steaks of the highest quality, marbled and grilled to perfection.
Steak Frites
Steak Frites
truffle Parmesan fries
Steak Entrées
All steaks are served with mashed potatoes and market vegetables.

We offer a 6oz Filet Mignon | 7oz Sirloin | 11oz New York
Chipotle Steak
goat cheese butter
Peppercorn Steak
green peppercorn jus
Mushroom Steak
sautéed mushrooms
Steak & Shrimp
two shrimp skewars
Roasted Fingerling Potatoes
Market Vegetables
(170 KCals)
Fresh Baked Apple Pie Slice
traditional pie crust with Granny Smith apples.
Compliment your slice of pie with vanilla ice cream for $3.00
Lemon Brûlée Cheesecake
mascarpone vanilla cheesecake, torched lemon curd, traditional honey graham crust
Chocolate & Almond Biscotti
baked in house, two per order
Tavern Cheese Board
selection of 3 premium cheeses served with toasted cranberry focaccia, fig jam & candied pecans
TALL CANS & BOTTLES
Daura Damm Gluten Friendly (330mL)
White Claw Black Cherry (473mL)
Heineken 0.0 (330mL)
Non-alcoholic
DRAUGHT
Mill Street Hazy Organic IPA (14oz)
Steam Whistle Fat Tire (14oz)
Nickel Brook Naughty Neighbour (14oz)
Murphy's Irish Stout (16oz)
Angry Orchard Crisp Apple (14oz)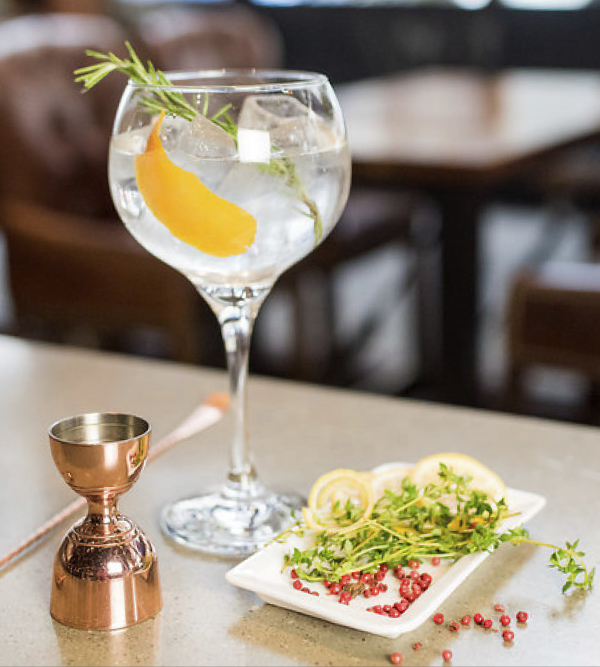 CREATE YOUR OWN G&T COCKTAIL
Aviation American Batch Distilled
USA
Dillon's Unfiltered Gin 22
Canada
Dillon's Rose Gin (Liquor)
Canada
CHOOSE YOUR GARNISH
FLORAL Strawberries, cucumber & lavender florets
CITRUS Lemon peel, thyme & cloves
HERBAL Orange peel & rosemary
SPICE Blackberries, cacao nibs & cardamom pods
HANDCRAFTED GIN COCKTAILS
Hibiscus Bellini (0.5oz + 150mL)
Beefeater, sparkling wine, hibiscus syrup, lemon, blackberries
Sparkling Yuzu Negroni (2.25oz + 30mL)
Sipsmith, Cinzano Rosso, Campari, sparkling wine, yuzu foam
It's Lemon Thyme (1.5oz)
Dillon's Unfiltered 22, Fevertree Lemon tonic, grapefruit bitters, cassia bark, thyme
Foxy Lady (1.5oz)
Hendrick's, Fevertree Mediterranean tonic, strawberry, cucumber, mint bitters, rose water
Gin Dynamic (1.5oz)
Hendrick's, cucumber, mint, lemon, lime, elderflower soda, strawberry cucumber mint ice cube
Negroni (2oz)
Bulldog gin, Campari, Cinzano Rosso
A Rosie Old Fashioned (2oz)
Dillon's Rose, grapefruit bitters, orange twist
REDS ORIGINALS
Smoked Salted Caramel Manhattan (2oz)
Bulleit bourbon, Cinzano Rosso, salted caramel, Angostura bitters, smoked table side with hickory wood chips
Maple Bacon Bourbon Manhattan (2oz)
Knob Creek Small Batch 9yr, Cinzano Rosso, maple syrup, bacon bitters, bacon skewer
Hibiscus Mule (1.5oz)
Absolut, house-made tea syrup, ginger beer, lime, candied hibiscus flower
Perfect Espresso Martini (2oz)
Ketel One, Kahlua, chilled espresso, espresso beans
Yuzu Grapefruit Spritz (1.5oz)
Ketel One Botanical Rose and Grapefruit, lemon, grapefruit bitters, elderflower soda, yuzu foam, watermelon radish, mint
Red Sangria
Havana Club Anejo 3yr, triple sec, lemon, seasonal fruit
Glass (0.75oz + 30mL) | Pitcher (2.75oz + 120mL)
White Sangria
Havana Club Anejo 3yr, triple sec, lemon, seasonal fruit
Glass (0.75oz + 30mL) | Pitcher (2.75oz + 120mL)
ZERO PROOF
Cranberry Yuzu Fizz
Cranberry, Yuzu puree, sparkling lemon soda, pomegranate
Rose Lemonade
Citrus and floral infused lemonade, edible flowers
Pineapple Mint Mojito
Fresh muddled lime, mint, simple syrup, pineapple, soda
WHITE
2018 1812 Palatine Hills Unoaked Chardonnay
Niagara
2017 The Foreign Affair Conspiracy Riesling/Sauvignon Blanc
Niagara, Canada
2019 Mission Hill Estate Series Sauvignon Blanc
Okanagan Valley
Jean Luc Columbo Viognier
Rhone Valley
2020 Cavaliere D'Oro Gabbiano Pinot Grigio
Veneto, Italy
Pirovano Soave Garganega
Veneto, Italy
Bersano Gavi di Gavi Cortese
Gavi, Italy
Stoneleigh Sauvignon Blanc
Marlborough, New Zealand
Chloe Chardonnay
Sonoma Coast, California
2017 La Crema Chardonnay
Sonoma Coast, California
2019 Daniel Chotard Sancerre Blanc
Loire Valley, France
2019 Deux Roches Pouilly-Fuissé Vieilles Vignes (750mL)
Bourgogne, France
2017 Elena Walch Pinot Grigio
Alto Adige, Italy
2018 Telmo Rodriguez 'Basa' Verdejo
Rueda, Spain
2017 Leaping Horse Chardonnay
RED
Mission Hill Estate Series Pinot Noir
Okanagan Valley, Canada
Pirovano Cabernet Sauvignon
Veneto, Italy
Tenuta Santome Merlot
Veneto, Italy
San Telmo Malbec
Mendoza, Argentina
Evolution Dominic Shiraz
Australia
2020 Silver Gate Pinot Noir
California
Kenwood Cabernet Sauvignon
Sonoma County California
Louis M. Martini Cabernet Sauvignon
Sonoma Valley, California
2016 The Foreign Affair Petit Verdot
Niagara, Canada
2016 Casalbosco Chianti Riserva
Tuscany, Italy
2019 Tenuta Argentiera Poggio Ai Ginepri Rosso (750mL)
2017 Mauro Sebaste Tresuri Barolo
Piedmont, Italy
2018 Jacob's Creek Double Barrel Shiraz
Barossa Valley, Australia
2016 Punti Ferrer Signature Malbec
Cachapoal Valley, Chile
2017 Beronia Tempranillo
Rioja, Spain
2019 Three Finger Jack Old Vine Zinfandel,
Lodi, California
2017 Firesteed Pinot Noir
Willamette Valley, Oregon
2018 Peter Franus Brandlin Vineyard Zinfandel
Mount Veeder, California
2018 De Loach Vineyards Russian River Valley Pinot Noir
Napa Valley, California
2016 Stag's Leap 'Artemis' Cabernet Sauvignon
Napa, California
ROSÉ
Trius Rose VQA
Niagara, Canada
La Belle Montagne Mediterranee
Provence, France
Jean Luc Colombo Rose Cape Bleue
Provence, France
SPARKLING
Malivoire Che Bello
Niagara, Canada
Quercioli Lambrusco Reggianno Dry, Emilia Romagna (Red)
Italy
Tenuta Santome Prosecco Brut
Veneto, Italy
Can Xa Brut Rose Cava
Penedes, Spain
CHAMPAGNE
Perrier-Jouet Grand Brut
Champagne, France
Veuve-Cliquot Ponsardin Brut
Champagne, France
Veuve-Cliquot Ponsardin Rose
Champagne, France
RESERVES
1999 Chateau Pape Clement, Pessac-Leognan
Bordeaux, France
2007 Louis Roederer Cristal Brut Vintage
Champagne, France
Must be legal drinking age. Please enjoy responsibly.
We recognize that health and safety are important concerns for our guests. If you have an allergy or sensitivity or require gluten-free offerings, please let your server know. We do not assume responsibility for a particular sensitivity or allergy to any food provided at our restaurants. We cannot control or eliminate the possibility or risk of cross-contamination in our kitchens or products supplied to us by our suppliers. If you have any questions or concerns, please speak to the manager.